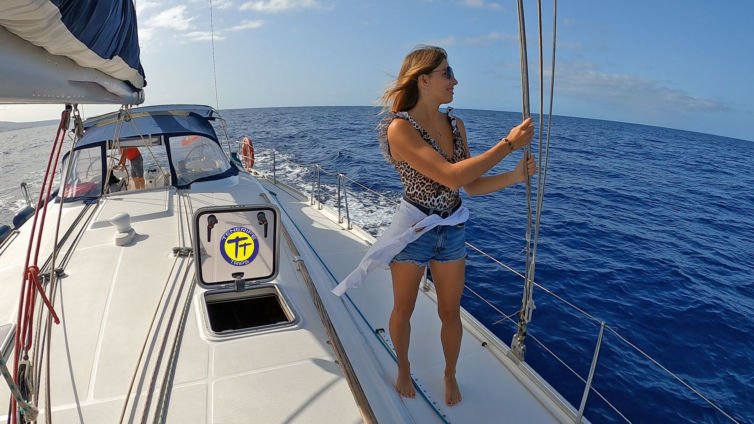 On this page you find a selection of the best Tenerife boat trips available on the island. We care about our customers, therefore we offer top quality; we personally check the boats published here; this certainly ensures a good service is provided.
There are different Tenerife boat trips available according to your needs; from catamarans to sailing boats; from 2 hours to 4,5 hours of excursion. It is also possible to rent a private charter only for your group of friends or family.
Moreover transportation is available for most of the Tenerife boat trips; this is offered from the vicinity of your accommodation or right in front of the main entrance of the building where you are staying, depending on the area. Make sure to tell us your location when booking; after that we can confirm the availability of this service.
Tenerife is a very special island because here sea and mountains coexist; for example we find wet and dry microclimates, hot and cold temperatures. This is due to its particular physical shape which has high mountains in the center of the island; these act as a barrier against the winds thus making it possible to have different climatic conditions depending on the area. That is to say, they stop clouds in the northern part of the island; as a result, the south of Tenerife presents sunny and dry weather during most of the time.
So have a look at the Tenerife boat trips and see the detailed description; in addition watch the video; we produce almost all of the images and videos on our website, so you can see original and exclusive content; for example in this section most of the multimedia material published is ours. this way you can already experience what the trip would be before booking it;
meanwhile you get an idea of all important details like price, schedule, etc.
Finally we want you to know that what makes us different from other companies is our customer service. Above all we want to help you to have fun and enjoy your holiday. On the other hand we ask you a bit of patience if we can't get back to you straight away because our office is rather busy. Probably it will take just a short time to answer your questions so don't get stressed; we will certainly do our best to be as quick as possible.
We prefer to get contacted by WhatsApp or direct phone call because it is the easiest and quickest way. Another is by e-mail, but if you choose this option the time to answer will definitely be longer; however we are usually very fast.
So get in touch with us for further information now; we are happy to answer during the whole year!
Book with Tenerife Trips, you certainly will not regret!